USE THIS CHECKLIST AND METHOD TO CLEAN YOUR HOUSE SUPER FAST.
There are times when I go through the house and think, "Gosh, it sure looks like a bomb exploded in here!". This normally happens when I've been so busy with work or outside activities that our routines at home have slipped and before I know it, there is mess everywhere and I wonder whether a bus-load of college students threw a party in my house whilst I was out!
It's at times like these that I whip out my handy speed cleaning checklist and 'Bibbidi Bobbidi Boo' it back into shape. (Cinderella's one of my favourite Disney cartoons in case you were wondering!).
This checklist has been my go-to resource for cleaning up in a hurry. For when I've had relatives or friends casually mention they'll be popping over in a bit or when, as I've just mentioned, I suddenly look around to discover I'm apparently living in student digs. ?
Make sure you grab your copy of my Speed Cleaning Checklist here: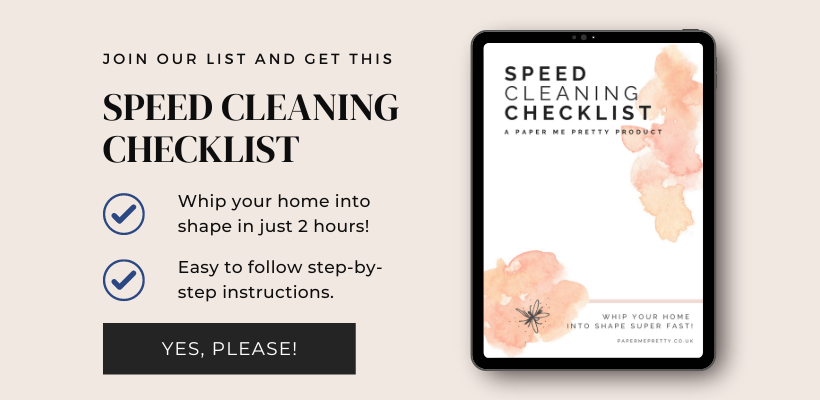 If you want to clean your house super fast, you'll need to do four things. So let's dive in!
How to clean your house super fast
1. Have a plan
Every goal needs a plan. And if your goal is to clean your house super fast, then you'll need a plan to get you there. That's why I created the Speed Cleaning Checklist. It's a one-page, step-by-step action plan to take me from 'messy squatter accommodation' to 'relaxing haven of calm'.
Grab your copy here: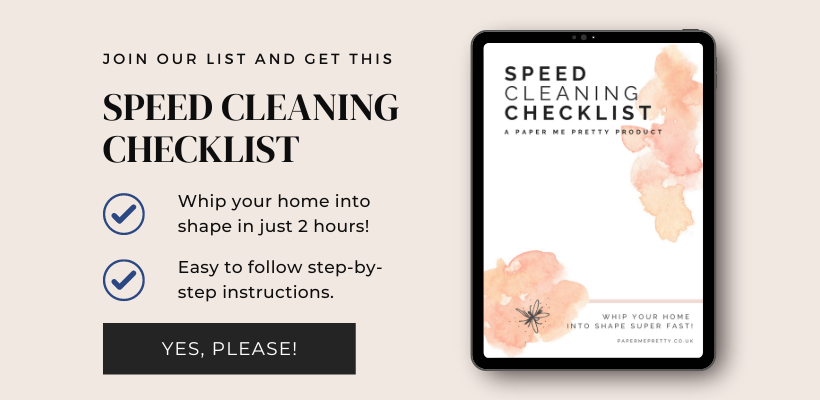 2. Gather your tools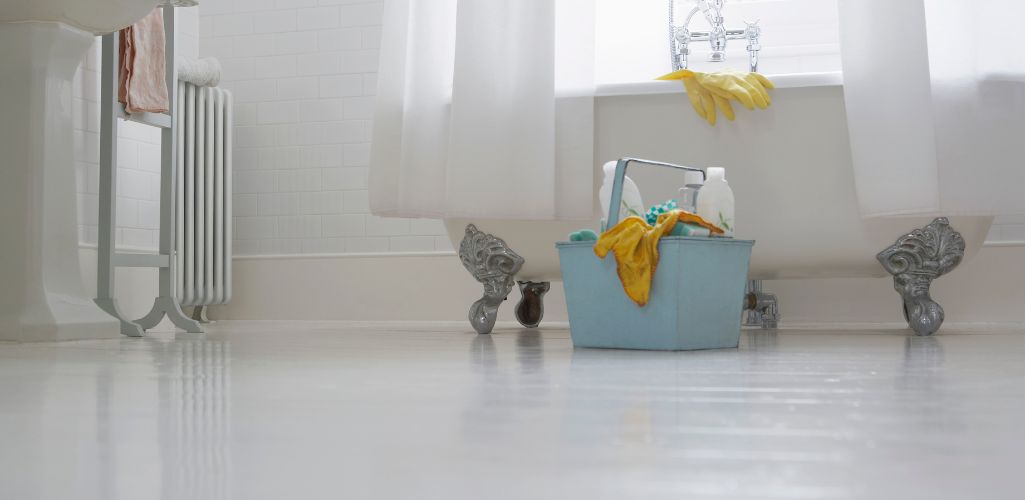 Once you have your plan, you then need to gather the tools you need to clean your home. You don't need many things. But you'll go faster if you gather them all before you begin so you won't have to stop to go and fetch something. Here are the things I recommend you use to clean your house super fast:
Multi-purpose cleaning spray (here's a recipe for my favourite home-made anti-bacterial all-purpose cleaning spray)

Cleaning cloths (microfibre cloths are great for most surfaces)

Vacuum

Bin bag(s)

Laundry basket or large container or bag to collect random things that belong in different rooms

A water bottle to quench your thirst as you move around

Music (to keep you moving as you clean!)

A timer (optional) to focus your actions and help you to keep going
Most of my cleaning supplies are in a cleaning caddy in my kitchen, so I will often just grab that caddy. The idea here is to have everything you'll need for this speed cleaning session in one place.
3. Block the time
Depending on the size of your home and how many rooms you'll be cleaning, you'll need to block off time to work. I live in a three-bedroom house with three children and it takes me two hours to whip my home back into shape.
If you have a smaller or larger place adjust this time to suit you.
You may be thinking, 'But Elisa, I have company coming over in an hour!!'. Then work with the time you have. Use the Speed Cleaning checklist to highlight only the areas you'll be cleaning (the checklist tells you how long different tasks are likely to take). Then you'll have an idea of what you can complete if you only have an hour.
If you only have a short amount of time, always focus on the public areas first. These are the places that company will go when they arrive – your living room, your entrance, your kitchen, and your bathroom. If you complete these areas and your company still hasn't arrived, then as a bonus, you can get some tidying done in the other rooms too!
4. Follow the plan
This is where the rubber meets the road. Now that you have a plan, you've gathered your supplies and you've set aside the time to tidy, it's time to roll up your sleeves and get to work!
Turn on your favourite motivational playlist that will keep you moving and don't allow yourself to stop until you've reached the end.
I like to use a timer when I work as it motivates me in two ways;
it reminds me that I'm only tidying for a short period

it helps me to work faster because I can see the time slipping away
Reward yourself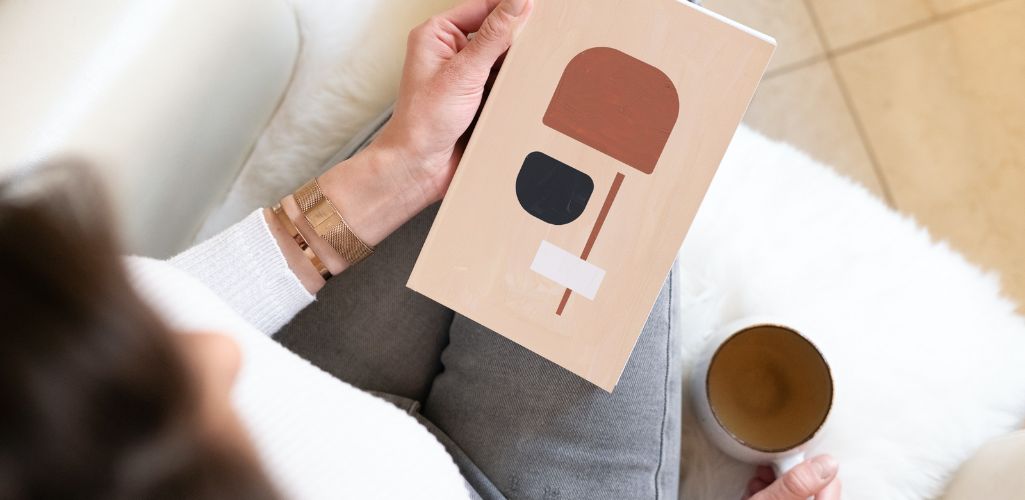 When I finish, I always give myself a reward. Often it's a cup of tea and a cookie that I can enjoy in the serenity of a tidy home! Or it's a short time with my feet up and a good book or a sudoku puzzle!
I think rewarding yourself for all your hard work is important. If you took a before and after picture of what you accomplished, I'm sure you'll agree!
So if you want to clean your house super fast, be sure to grab this life-saving Speed Cleaning Checklist so you can 'Bibbidi Bobbidi Boo' your house into shape!
---
Other posts you may like: