ORGANISE YOUR WEEK WITH THESE FOUR CRUCIAL HACKS
If you've ever reached Friday and wondered where on earth your week went, you'll be grateful for this post! Today, I'm breaking down four tips to help you organise your week and your schedule so that you'll have a calmer and more streamlined week.
1. See your whole week at a glance
In order to organise your week, you'll first need to be able to see your whole week at a glance. It's kind of like going into someone's house and opening up all their kitchen cupboards before you start organising their kitchen.
It's important to see the lay of the land, what you're already committed to and all the events and activities coming up in your week.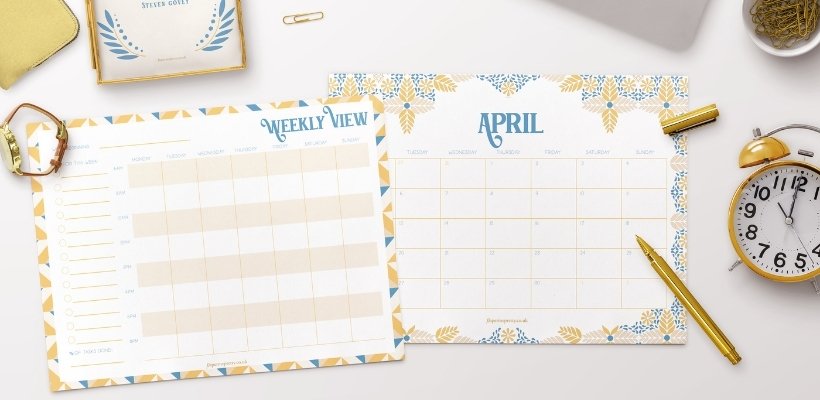 A Weekly View and Monthly Calendar inside our stationery club.
It's also a good idea to look a few days into the next week as well, just in case there's an important event or appointment just over the hill!
When you can see all your activities and events, it's important at this stage, to ask yourself if ALL of them need to remain in your schedule. And whether appointments are placed in the most sensible place to make the best use of your time.
This is where you'll start to ask whether you could batch those little errands dotted here and there and group them together. Or whether your fifth zoom meeting should be batched with the other four (or scrapped altogether!).
Reshuffling things so that you're more efficient with your time is called "Triaging" your calendar. And it's a term used in the medical profession to describe the process doctors use to identify cases that require their immediate attention.
When you triage your week, you're turning away those items that don't require your immediate attention and you're lining up the things that do so that you can act more productively in the week ahead.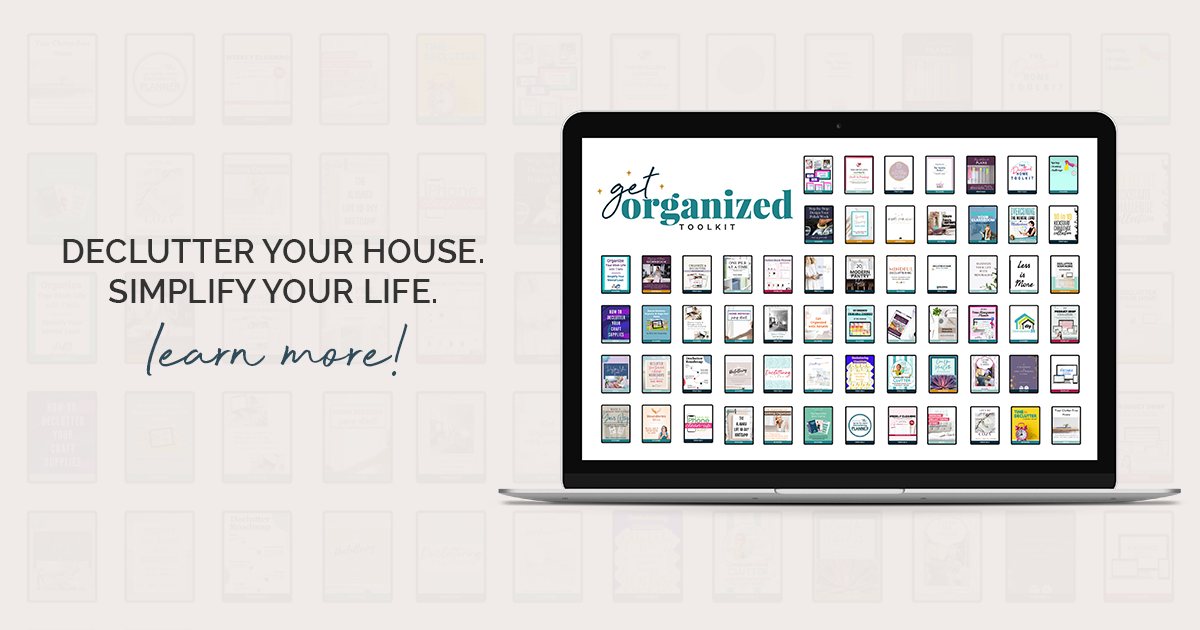 2. Organise your week by viewing your available time
Once you've triaged your week. It's a lot easier to see where you have blocks of available time. This is the next step in organising your week. Once you can see how much available time you have left after you've acknowledged the appointments and events that are definitely staying, you'll have a better idea of how much time you have to complete tasks and do things.
You might want to total up your available time, or you can simply note which days have the most available time.
3. View your To Do's
This brings us to our third step to organise your week. Getting an overview of all your tasks.
Technically, you don't need to view ALL your tasks for this step. You really only to see which tasks you have due this coming week.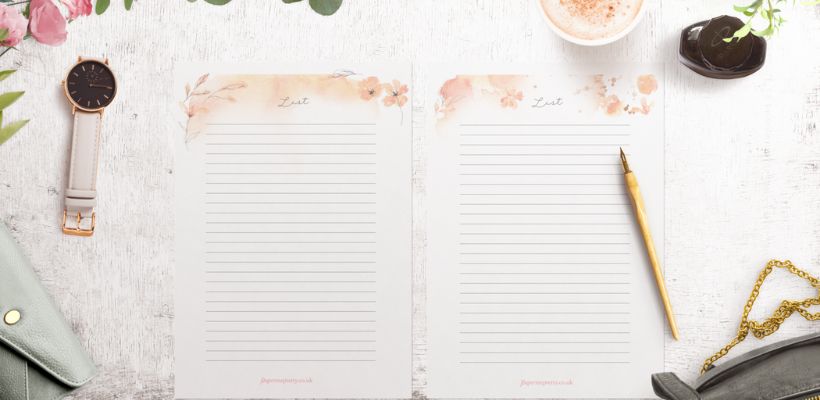 List pages inside our stationery club.
If your To Do list is anything like mine, there are probably more things to do than could possibly fit into a seven-day week. So, chances are, you'll want to prioritise your list so that you can see which items are the most important. That way, when you start scheduling your To Do's (which we'll get to in the next step), you'll have scheduled the most important items first.
If you have difficulty identifying which items are important, ask yourself whether any of your tasks are related to one of your goals. And whether any of the items have an urgent deadline.
This is really useful if things don't naturally pop out to you as more important than others.
4. Schedule your To Do's into your week
Now that you can see your available time and your list of tasks, you need to combine the two.
Put your most important tasks into your week first. I recommend putting in your top 3 priorities and then pausing before you schedule any more. It's at this point that I recommend scheduling in buffer blocks of time.
Why? Because, frankly, life happens. And if we schedule our weeks with every ounce of time being spoken for, we'll end the week frazzled and drained! So the key is to allow for "life" by adding blocks of time that are just free.
How much buffer time should you add?
Depending on your situation, it might feel like there's not a free minute in your week as it is, and so the thought of buffer time sounds like a pipe dream. If that's you, then I'd say start small. I'd recommend allowing for an extra hour or two of buffer time each day. But if you don't feel like you can manage that, then as a minimum, 30 minutes a day can create a little cushion for movement. Any less than that and you'll soon burn out.
Once you have your top three priorities scheduled, and your buffer time blocked off, you can then move down your To Do's scheduling as many or as few as you want to.
Chances are, you won't exhaust your To Do list. And I don't recommend trying to! If your top three items are scheduled, everything else is pretty much a bonus!
Here's to your new calmer and more streamlined weeks!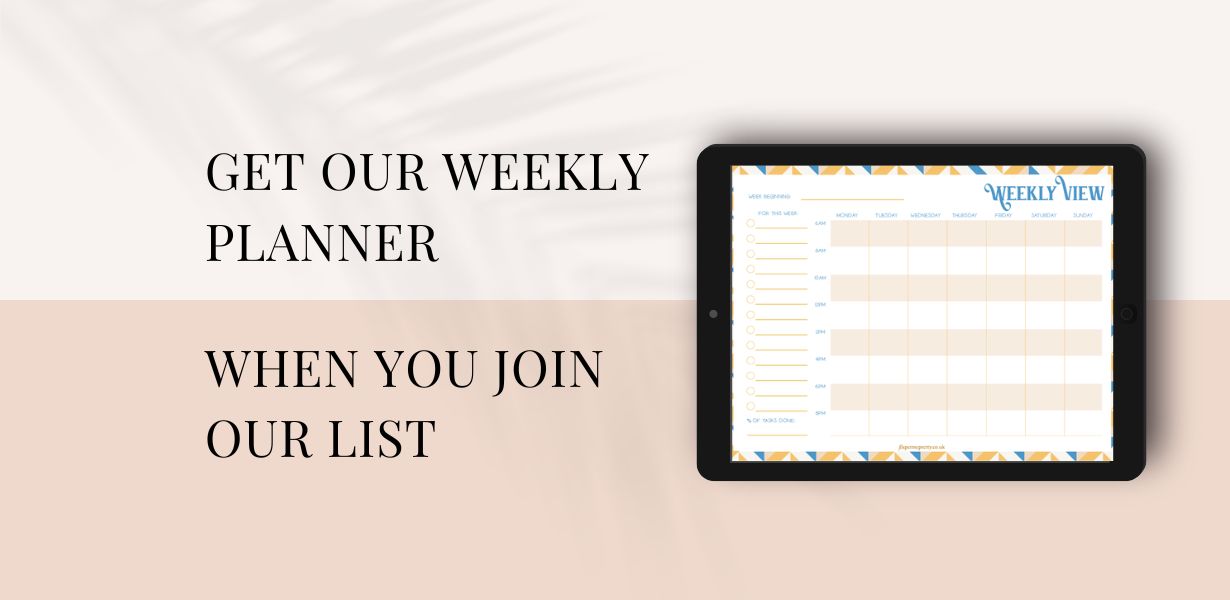 "Life happens, so the key is to allow for it by adding blocks of time that are just free."

ELISA CALEB