A DELICIOUS MULLED WINE RECIPE FOR CHRISTMAS THAT'LL WARM YOU RIGHT UP!
If, like me, you're partial to a glass of mulled wine around the festive season, then you'll LOVE this post.
This mulled wine recipe is simple and absolutely delicious. But even more than that, you can get it in the MOST BEAUTIFUL format!
How?
Well, it's one of the 10 recipes that are included in our Ultimate Christmas Planner. And we're giving it to you free when you join our mailing list. The PDF version of this recipe is so beautiful, that you'll probably want to frame it!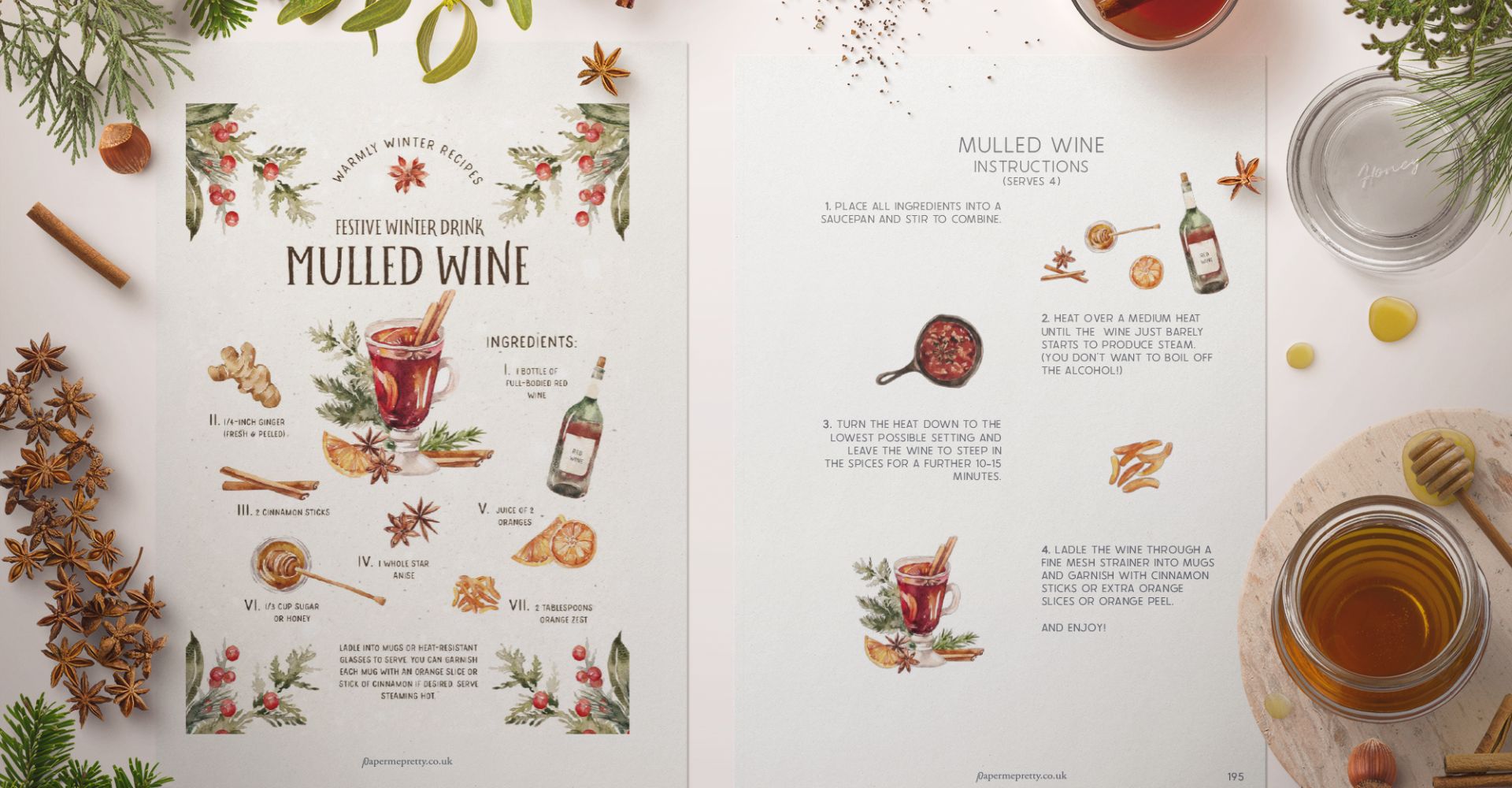 OK. Let's get into this recipe shall we?
---
Mulled Wine Recipe
Ingredients:
A bottle of full-bodied red wine

¼ inch of fresh ginger (peeled)

2 cinnamon sticks

1 whole star anise

Juice of 2 oranges

⅓ cup of sugar or honey

2 tablespoons orange zest
Method:
Place all the ingredients into a saucepan and stir to combine.

Heat over a medium heat until the wine just starts to produce steam (you don't want to boil off the alcohol!).

Turn the wine down to the lowest possible setting and leave the wine to infuse in the spices for a further 10-15 minutes.

Ladle the wine through a fine mesh strainer into mugs and garnish with cinnamon sticks, orange slices or orange peel.
Here's a handy tip:
After step 2, transfer the wine into a slow cooker and leave on the "warm" setting to infuse. This is great if you're entertaining guests because you can keep the wine warm for much longer.
If you've tried this recipe, I'd love to know your thoughts. And if you'd like to get your hands on our Ultimate Christmas Planner, you can check it out here.