Find out how to get organised for Christmas without stress using these simple key steps.
I used to find Christmas really stressful and chaotic. With a large extended (and expanding) family who all gathered at Christmas, it seemed like endless shopping, present-wrapping and events.
Too often I'd find myself wrapping presents until 3am on Christmas Eve. Or realising - on Christmas Day - that a gift I had ordered online hadn't arrived! Was it just me? Or were there too many things to get organised for Christmas. It always seemed so exhausting and frantic.
That's when I decided that something had to change. I was fed up with the last minute Christmas Eve present-wrapping and feeling like I was too stressed to even enjoy a glass of mulled wine.
So I got to work on a system to help me get organised for Christmas with less stress. And it's the system I use today to guide me through the Christmas period with more delight and less despair!
Let's dive in!
1. Start early
If the #1 girl scout motto is "always be prepared", then the second one would probably be "get a head start". There's no denying that these two phrases go hand-in-hand.
That's because getting a head start - or starting early - is key to being organised. The earlier you can prepare for something, the more likely you are to prevent last minute emergencies. And this is because when you prepare early, you'll be aware of any extra tasks or actions that crop up a lot earlier.
And because you have that extra runway of time, you're more able to take care of those extra tasks that you couldn't see before. December comes around faster than you think!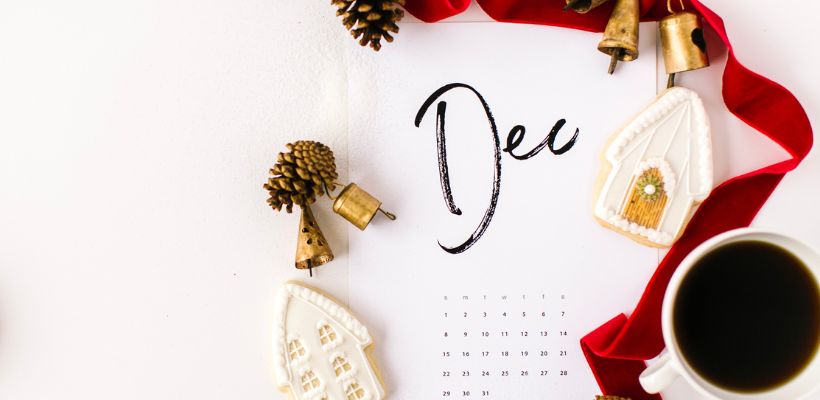 Ask any successful wedding planner how they do it, and I'm sure they'll say that advanced planning is crucial. That's because we often don't see all the pieces that we'll need until the puzzle is nearly done. Even wedding planners who've been working for years will tell you that there's always something unplanned that happens.
Now, just to be clear, planning for Christmas is not the same as planning a wedding. But there are some similarities. Although Christmas happens every year, it never happens the same way twice!
2. Use a plan
Ok. So you've decided to get organised for Christmas early - or at least earlier than you did last year. But now what? Where do you begin? What do you do first?
That's where having a plan comes in. When you have a plan to follow, it takes the guesswork out of getting things ready. This is why I created The Ultimate Christmas Planner. I wanted a step-by-step plan I could follow so that I didn't have to think about what to do next.
And the Weekly Task Lists that are included in the Ultimate Christmas Planner are completely amazing! It's like having a GPS device tell you what to do, and in what order - leaving you to just enjoy the ride!
"Having a plan takes the guesswork out of getting ready for Christmas."
In a nutshell, the Weekly Task Lists are the backbone of The Ultimate Christmas Planner and the main reason why you'll feel less stressed heading into Christmas. I could never go back to the years before I had this plan. It's become such a part of my Christmas preparation that I couldn't imagine doing Christmas without it!
So you could spend hours (or weeks) creating a plan. But if you don't want to go through the hassle of making up your own plan, use ours and get your copy of The Ultimate Christmas Planner now!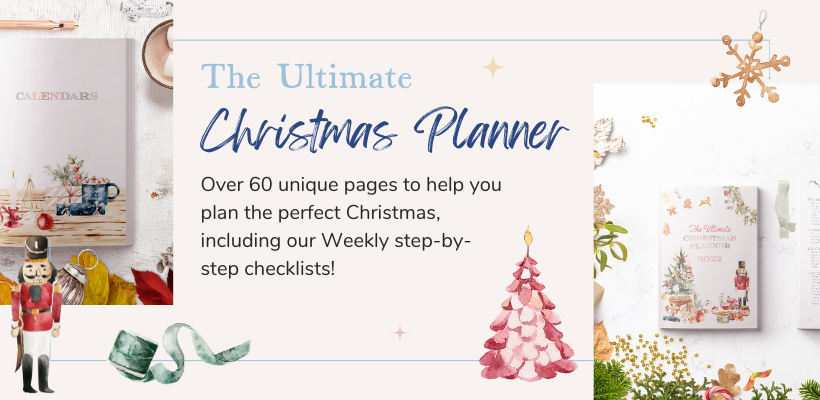 3. Know Your Limits
If you've ever arrived at Boxing Day - the day after Christmas - and thought "Why did I put myself through that?", then you'll want to listen up here.
Too often, in an attempt to make Christmas extra special, or to impress certain family or friends, or to [insert your own struggle] to the excess, we often burn ourselves out. We burn out our patience, we burn out our joy and we often burn out our wallets too!
One of the major regrets after Christmas is overspending. Some people call it the January Blues, but in reality, it's just excess without limits.
That's why it's important to know your limits. Whether that's a financial limit, or a limit to the number of festive activities you can handle. Wherever you find yourself giving a lot, it's tempting to give so much that we've bankrupted ourselves - figuratively AND literally!
So do yourself a favour. Set limits to how many parties you'll attend. Or how much you'll spend on gifts or how long you'll host that relative that occasionally makes life difficult!
Do this for your sanity's sake and for the sake of your family. They'll appreciate it in the end!
And you'll appreciate being able to enjoy that glass of mulled wine without the stress!